Thanks to its unmatched coverage, high reliability and failure safety in disaster situations, digital radio is ideally suited to alerting and informing the public in affected areas. A leader in the field of audio research, Fraunhofer IIS works on new technologies in the field of digital broadcasting and as a result its technologies can be found in a wide range of broadcasting equipment and receiver devices.
At NAB Show Fraunhofer IIS presents "Emergency Warning Functionality" (EWF), a reliable method of alerting and informing the public over digital radio in case of pending disasters. When it becomes necessary an emergency center, e. g. a public authority, can trigger the alarm. The radio receivers automatically re-tune to the emergency broadcast and secure public attention by flashing messages or an increase in volume. Besides the radio announcement, multilingual text messages are shown on the display, supplemented by additional information such as instructions for immediate interactive access based on the text-based information service designed for digital broadcasting systems, "Journaline". Thanks to the transmission of multi-lingual text information and a visual alert signal, non-native speakers and hearing-impaired people can also be informed of the situation.
NAB Show visitors have the opportunity to experience the new feature throughout the duration of the show at the Fraunhofer booth.
More information can be found on our website:
www.iis.fraunhofer.de/broadcast
The Emergency Warning Functionality alerts the public in case of disasters: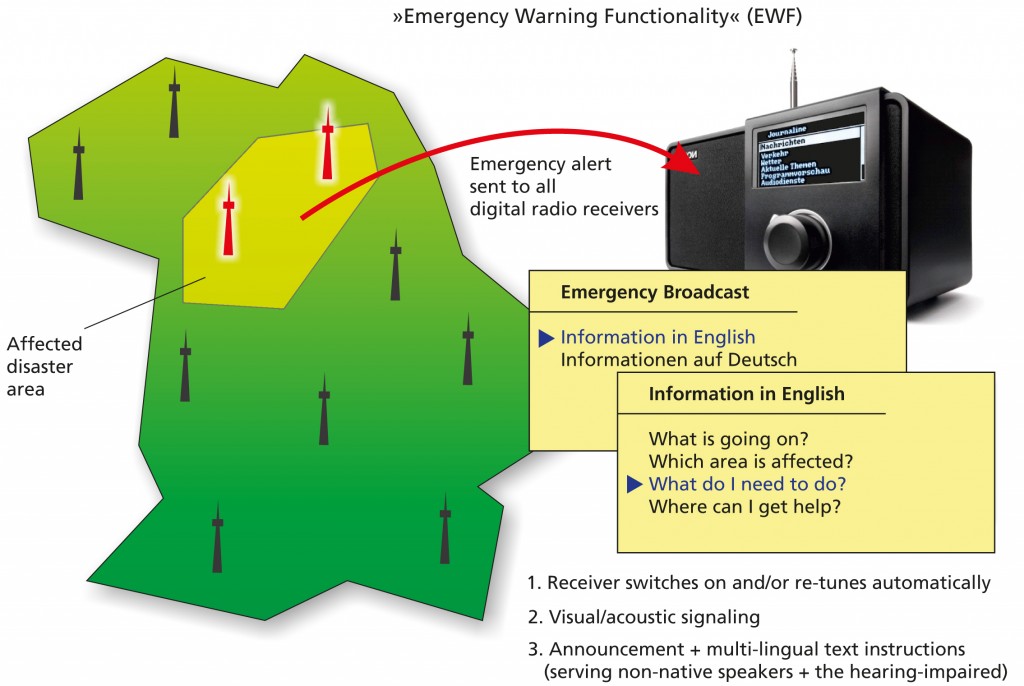 All images © Fraunhofer IIS