Fascinating Sound from all Directions
MPEG-H and Cingo provide the possibility to place an arbitrary number of sound objects anywhere in a virtual space around the listener. As a result, the listener can perceive sound elements in the front, behind, from above or below. "Our immersive audio demo app, created together with castLabs, brings 3D audio to the next level. The immersion is strengthened through virtual height speakers and sound objects that move around the listener, e. g. whispering voices close to the listener's ear or sound objects flying above their heads. As a result, the listener truly feels immersed in the virtual 3D scene with a stunning level of reality that creates an experience of 'being there'", explains Julien Robilliard, Cingo product manager at Fraunhofer IIS.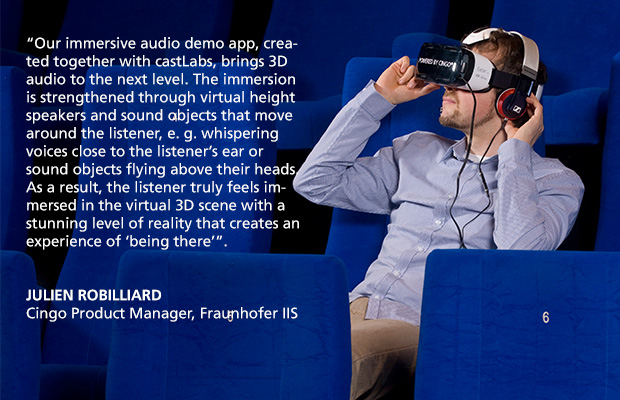 "This audio technology represents a huge step forward for virtual realism. The potential for providing innovative applications and exciting new experiences for consumers is endless", said Michael Stattmann, Managing Director of castLabs.
The MPEG-H audio standard is the ideal companion for Cingo 3D audio rendering as it can deliver immersive 3D sound for virtual environments to mobile devices at bitrates used in the past to deliver 2D surround sound. As a core contributor, Fraunhofer IIS played a major role in the co-development of this new MPEG-H audio standard. Movies, games or other virtual environments can be played using Cingo via headphones on VR devices such as the Samsung GearVR. The combination with adaptive streaming standards such as MPEG-DASH ensures the best possible audio playback even under changing network conditions.
Immersive Sound in the Real World
Fraunhofer Cingo and MPEG-H also deliver an unrivalled sound experience to "non-VR" mobile devices such as tablets and smartphones. At home or on the go, sound enthusiasts can not only benefit from fascinating immersive sound over headphones, but also clear and natural stereo sound when using built-in loudspeakers. Thanks to the integrated loudness optimization, in situations involving noisy environments and/or devices where loudspeakers simply cannot output sufficient volume, the advanced loudness optimization features can be tremendously beneficial.
Meet us at IBC 2015!
Want to learn more about MPEG-H and Fraunhofer Cingo? Visit our website or meet us at our booth at IBC in Amsterdam (hall 8, booth B80) from September 11-15, 2015 to experience a live demo of our 3D audio solution for VR applications. castLabs will also be hosting the VR demo (booth K02 in hall 14). We look forward to your visit!
Header image © Fraunhofer IIS/Kurt Fuchs
This post is also available in: Deutsch