MPEG-H Audio users now benefit from new and re-worked tools.
The MPEG-H Audio system is characterized by its unique personalization features. They enable the creation of fully adjustable dialogue levels, customizable audio description, multiple languages, and even interactive object positioning. As a result, users can tailor the media consumption experience to their individual preferences and requirements – and all of this in addition to enjoying immersive sound. The authoring process through which these features are added to the classic audio mix is one of the elements that sets MPEG-H Audio production apart from conventional content creation. It yields an MPEG-H Master, a package that includes all audio- and metadata. The MPEG-H Audio metadata contains all control information required for user interactivity and all information that the playback device requires to optimize reproduction and rendering to ensure the best audio experience on any platform. This means that MPEG-H Audio metadata requires just as much careful consideration as the audio essence.
Creating MPEG-H content has never been easier: MAS 4.0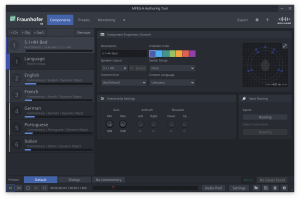 To support creators in the production of exciting content for their audiences, Fraunhofer IIS provides the MPEG-H Authoring Suite (MAS). The range of intuitive tools makes the production of MPEG-H Masters easier, faster, and open to everybody. It can be integrated into existing tools and well-established workflows without changing routines a whole lot and is now available in version 4.0.
The new version supports the authoring of 96kHz high-res audio material to provide the maximum amount of workable audio data. Sessions can be exported in native 96kHz and downsampled to 48kHz.
The improvements and changes include
Export of first preset as a stereo render for intermediate workflow
Text input in hh:mm:ss samples into "Export/ Loudness Measurement" dialog
Broad range of GUI themes
GUI scaling for MHAT
New setting "Default Label Language"
BWF/ ADM export of up to 32 channels (max. 16 active simultaneously)
Improved accessibility
Analyzing MPEG-H Masters with MHIT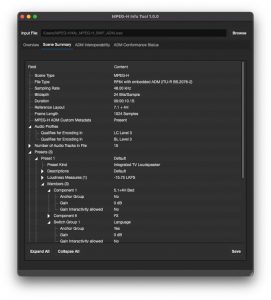 Fraunhofer IIS has reworked its ADM Info Tool into the MPEG-H Info Tool (MHIT), which provides an extended range of functionalities. It provides an overview of all information associated with content masters that are supported by the MPEG-H Audio system. The overview ranges from file-related information, such as date of creation and file size, to a representation of the metadata that is carried in the file and includes labels, number of presets, and others. The information is shown in the Scene Summary, a well-structured list of information with several levels of detail. In addition to providing information, the MHIT is also equipped with automated tests for ADM-based content.
Highlights of MHIT version 1.0.0
Scene Summary showing the metadata carried in an MPEG-H Master
Conformance checking of the ADM and S-ADM metadata according to ITU-R BS.2076-2, ITU-R BS.2088-1, and ITU-R BS.2125-0
Validation of ADM-based content against ADM profiles that can be ingested into the MPEG-H Audio system
Detailed reports on XML parser and conformance issues
Header image: © Fraunhofer IIS