At CES 2018, Fraunhofer IIS booth visitors can check out the benefits of xHE-AAC (Extended HE-AAC), the most advanced audio codec for digital radio and streaming, by listening to a 16 kbit/s livestream from Buenos Aires-based Radio Mitre. The station, founded in 1925 and part of the Grupo Clarín media house, is the most popular radio station in Argentina.
Tests conducted by Radio Mitre in and around Buenos Aires showed that the use of xHE-AAC – compared to HE-AAC v2 – reduced streaming downtime in areas with bad network connectivity by approximately 60%, and also reduced the average number of playout interruptions. The tests, which took place while traveling on the Buenos Aires subway as well as driving along the Buenos Aires – La Plata highway, compared two separate streams running on Android devices: the current 32 kbit/s HE-AAC v2 stream used in Radio Mitre's websites and apps, and a new xHE-AAC stream at 16 kbit/s. The trials revealed that xHE-AAC reduced the amount of buffering dropouts by an average of 57%: 28% on the highway and 86% on the subway. Also, there was 58% less downtime without any radio stream reception with the xHE variant. "Thus, using xHE-AAC for streaming is especially beneficial in Argentina, where the 4G and 3G networks infrastructure and coverage is often poor or very fragmented," said Rubén Corda, General Manager, Radio Mitre.
xHE-AAC effortlessly meets the requirements of mixed-content applications with limited transmission capacity, such as mobile audio and video streaming or digital radio: the codec combines speech and audio coding into one unified system, delivering consistent, high-quality audio at all bit rates for all signal types. This bit rate flexibility improves the reliability of streaming apps and streaming radio players: these may switch to very low bit rate streams and offer a continuous playback despite network congestion, providing unparalleled audio quality even at bit rates as low as 6 kbit/s for mono and 12 kbit/s for stereo services. When network connectivity recovers, the xHE-AAC player will adapt to a higher bit rate and may switch across the full range of bit rates up to transparent quality, depending on the user settings and the network connectivity. If used for mobile video streaming, the coding efficiency of xHE-AAC allows investing the saved bit rate to improve the video quality.
Using xHE-AAC opens the possibility to reach users of 2G networks with streaming services for the first time, for instance in emerging markets like Argentina. Thanks to the codec, service providers benefit from drastically reduced CDN cost and a simplified encoding asset management while consumers enjoy improved service quality along with saving on their precious monthly data allowance.
xHE-AAC is included in the AAC Patent Licensing Program by VIA Licensing at no extra cost.
The Radio Mitre xHE-AAC live stream can be experienced at the Fraunhofer IIS CES booth 20548 in South Hall 1 at Las Vegas Convention Center from January 9 to 12, 2018.
Header image © Antonioguillem – Fotolia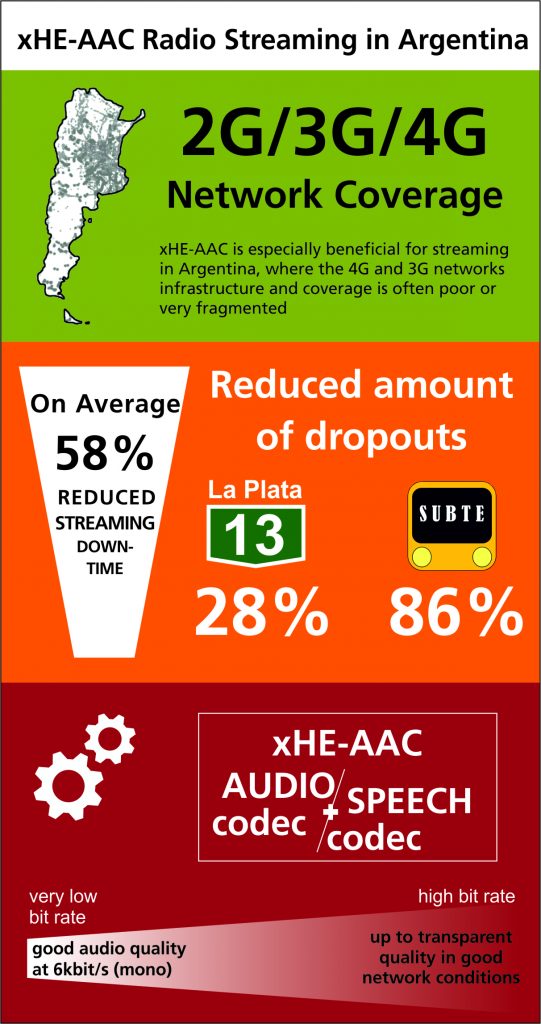 This post is also available in: 한국어