In June and August 2020, Radio Republic Indonesia (RRI) installed and commissioned five digital radio transmitters in the FM band, using the Digital Radio Mondiale (DRM) FM digital radio standard. Subsequent to that, the Indonesian Ministry of Information and Communication (Kominfo) conducted tests on the DRM FM transmissions of RRI.
By Sharad Sadhu
The Engineering Wing of Radio Republic Indonesia (RRI) wrote a new chapter in Indonesian history on June 10, 2020, when the first digital radio transmitter in the FM band was installed and commissioned at Pelubharan Ratu in Sukabumi province, West Java. RRI's new digital FM transmissions are based on the global open DRM digital radio standard, as applicable to the FM band. This is the first ever regular digital FM radio broadcasting station in Indonesia, in Southeast Asia and Oceania. And it is RRI's showcase to premiere the future radio experience enabled through DRM digital radio, from better and more diverse audio services using the latest audio codec standard xHE-AAC, to on-demand Journaline advanced text information available free-to-air on the radio set, and EWF – Emergency Warning Functionality.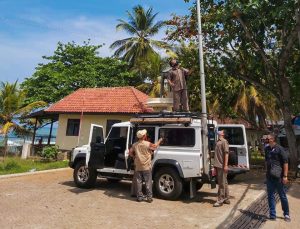 Currently, the Pelubharan Ratu FM digital radio station is broadcasting three programs in digital form: the audio services RRI Pro 1 and RRI Pro 3, plus a Journaline text service with news and current affairs information in textual form (in writing) in Bahasa Indonesia, which covers national news, local Jakarta news, international news and many other items of interest. The Journaline text information service makes it possible to provide listeners with program-related and program-independent information for on-demand look-up at the radio set as free-to-air services, without the need for an Internet connection.
RRI is planning to provide full DRM digital radio coverage to its audiences for local services (in the FM band) as well as for regional and nationwide services (including the medium wave band). In recent months, the next digital radio transmitters were installed and commissioned at Pantai Labuan in Banten Regency, West Java, Cilacap, Java Tengah province, Labuan Bajo, Nusa Tengarah Timor province in eastern Indonesia, and Painan, West Sumatra. All these five stations also provide similar programs and digital services.
In addition, the digital radio transmitters will be trialed for disseminating disaster warnings to radio listeners in the event of an impending natural disaster. For this purpose, DRM supports EWF, which can automatically re-tune the receiver to the emergency program or even help switch receivers on from standby if disaster is about to strike. The emergency program then combines audio announcements with multilingual Journaline information to reach hearing-impaired users and travelers with detailed on-demand information. For this purpose, these transmitters will be connected to the warning system of the national disaster management authority, enabling RRI to assist radio listeners in such events.
As part of the commissioning of digital transmitters, the provincial authorities were provided with digital radio receivers. A short training session was also held to familiarize them with the operation of these digital radio sets and the services they provide. RRI carried out this project with assistance from Fraunhofer IIS, RFmondial and the DRM Consortium.
Kominfo conducted extensive tests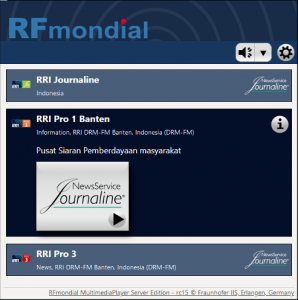 In July, the Indonesian Ministry of Information and Communication (Kominfo) conducted extensive tests on the DRM FM transmissions of RRI at Pelabuhan Ratu, West Java. The Directorate of Resources Arrangement and other units of Kominfo were involved in these tests and measurements.
The FM radio frequency band is currently widely used in large cities in Indonesia for analogue FM services, so there are not many FM radio frequency channels that can be allocated for areas around the big cities. To avoid interference between analogue FM radio broadcasts, the FM broadcast radio frequency channel is ideally separated by 400 kHz. In this case, DRM transmissions can be a solution to the needs of broadcast radio channels in areas that have limited FM channels, as the DRM transmission can easily fit into gaps in the frequency band between existing FM services, or could be co-located side-by-side with ongoing FM transmissions (i.e. "DRM simulcast" from a single transmitter).
Measurements carried out at six test points aimed to technically evaluate DRM FM transmissions and features that can be broadcast through DRM transmitters such as Journaline. Based on the results of the field measurements, 1 kW FM coverage at six test points can be served by DRM with only 50 watts of power, with good DRM audio quality in its three programs. Also, the measurement results did not find interference between FM and DRM. FM and DRM audio quality is equally good, but the sound quality of DRM is better than FM.
DRM vs. DRM measurement results obtained show that interference does not occur between DRM transmissions with a frequency spacing of 100 kHz. The audio quality of both DRM signals is equally good. The field test results are consistent with ITU-R Recommendations BS.1114 and BS.1660.
About DRM
The DRM standard is a digital solution for terrestrial broadcast radio, in the short wave, MF, FM and VHF Band III radio frequency spectrum. DRM is the digital successor of the two traditional analogue radio standards AM and FM.
In the FM band, each of the 96 kHz wide DRM digital radio transmissions can accommodate up to three stereo audio broadcast programs along with Journaline text information. The latter is used for news media, advertising, public information and emergency warning services. It is much more efficient than analogue FM broadcast radio, which utilizes 300 to 800 kHz spaced channels of 200 or 250 kHz bandwidth each, only to accommodate one single broadcast program.
The DRM digital radio transmission provides many advantages over analogue radio in the FM and medium wave bands: it is powerful, with a higher coverage (reach), better audio quality (sound and music) and more robust signal reception. DRM transmissions are particularly eco-friendly as they can save up to 90 percent of transmission power compared to normal analogue FM radio, while simultaneously providing better coverage and more services for listeners.
The technical specification documents of the DRM standard are widely and freely accessible on the European Telecommunications Standards Institute (ETSI) page, among them EN 302 245 and ES 201 980. As a standard digital radio technology, DRM provides efficiency in the use of electrical energy and the use of radio frequency spectrum. In addition, as a digital technology, DRM can be used to reach broader coverage using the Single Frequency Network (SFN) technique.
Header image © Big_Ryan – istockphoto.com
This post is also available in: 한국어