The MPEG-H TV Audio System, developed primarily by Fraunhofer's audio experts, enhances the listening experience by offering personalization features, immersive sound, and optimization of sound to the type and configuration of the receiving device. For broadcasters and streaming services, the MPEG-H TV Audio System enables the cost-effective delivery of multichannel audio combined with a new user experience. Broadcasters and service providers can implement the MPEG-H TV Audio System without changing their internal plant infrastructure.
INNOPIA's IMT-M6400, unveiled at the NAB Show in Las Vegas, Nev., will be available in Korea in the fourth quarter of 2018.
Until now, add-on ATSC 3.0 tuners in Korea have worked only with select brands and models of 4K Ultra HD (UHD) TVs, but INNOPIA's universal model connects to any TV with HDMI inputs to receive terrestrial UHD TV broadcasts with MPEG-H 3D Audio.
Another key differentiator is the STB's ability to combine terrestrial broadcast- and broadband-delivered content. With the STB's remote control, the terrestrial UHD hybrid STB lets TV viewers, at any time, select broadband-delivered interactive content related to the over-the-air terrestrial TV broadcast that they are watching, including sports statistics, additional video on demand (VOD) based on curation services, and even multi-user quizzes in which remote viewers play against one another. Interactive content could also include a choice of different viewing angles at sports events, a program guide with the option to switch channels, and interactive ads.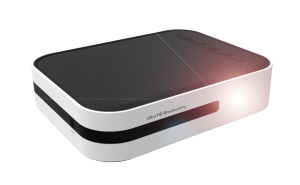 INNOPIA's IMT-M6400 is the first STB to incorporate TIVIVA, a broadband service launched by Korean broadcasters KBS, MBC and SBS. TIVIVA is based on IBBTV, the Korean version of Hybrid broadcast broadband TV (HbbTV) technology, which represents a global initiative aimed at harmonizing the broadcast and broadband delivery of entertainment services to consumers through connected smart TVs and connected STBs.
In addition to ATSC 3.0 broadcast service, the INNOPIA STB also features web-based OTT video services, including YouTube, as well as video streaming to a TV screen from connected mobile devices or computers based on Miracast and DLNA networking technologies.
To supplement the STB's interactive-video features, Fraunhofer assisted INNOPIA in integrating the MPEG-H TV Audio System to enable innovative interactive object-based audio features. For example, listeners could raise the level of dialog so that on-screen conversations are audible during soft passages in noisy listening environments. Viewers could also raise the loudness level of sports commentary above the roar of the stadium crowd, choose to listen to the home-team or visiting-team announcer, or select individual car-to-pit-crew radio conversations during an auto race, depending on whether the broadcaster provides these options.
For more information, visit www.iis.fraunhofer.de/tvaudio and www.innopiatech.com.
Header image © INNOPIA
This post is also available in: 한국어