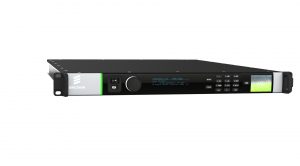 Ericsson Media Solutions, one of the leading suppliers of professional broadcast media solutions, is the first manufacturer to support the MPEG-H TV Audio System in contribution applications.
At the NAB Show, Ericsson introduced its AVP 2000 Contribution Encoder and companion MediaFirst Content Processing (MFCP) Decoder as the industry's first contribution-path encode/decode solution with support of the MPEG-H TV Audio System, substantially developed by Fraunhofer IIS. MPEG-H is the only next-generation broadcast audio system in regular operation in the world, having been launched by South Korean terrestrial UHD broadcasters in May 2017.
The new Ericsson solution enables broadcasters to generate an MPEG-H bitstream with all the necessary metadata at the site of an event and transport it back to the studio for further processing and final emission. This Ericsson solution opens yet another application area for MPEG-H, which can now cover all broadcast use cases.
"We are proud to work with Ericsson on a contribution solution for MPEG-H, making it the first next-generation audio technology that can be used in the contribution path between an off-site location, such as a live sporting event or remote studio, and a broadcast studio's emission encoder," said Marc Gayer, Head of the Business Department at Fraunhofer IIS Audio and Media Technologies. "An important component of this contribution link is support for audio-related metadata, which is essential for delivering key MPEG-H features."

"As one of the world's largest suppliers of hardware and software media solutions for TV and media-service providers, Ericsson Media Solution's global market presence will help bring MPEG-H's high-performance sound and next-generation immersive audio capabilities into the industry mainstream," said Arpad Jordan, Head of PDU Media Processing & Delivery, Ericsson Media Solutions.
For broadcasters and streaming services, the MPEG-H audio codec enables the cost-effective delivery of multichannel audio at comparably low bit rates while delivering a host of new consumer capabilities, including immersive cinema-like sound and personalized audio mixes. Broadcasters and service providers can add MPEG-H without changing their underlying plant infrastructure. The new equipment works with SDI infrastructure and includes a robust and secure mode to carry the metadata.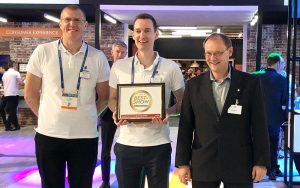 Ericsson Media Solutions and the Fraunhofer IIS collaborated closely in integrating MPEG-H 3D Audio into the AVP 2000 Contribution Encoder and MFCP decoder. The AVP 2000 is one of the most flexible video-processing solutions in the market, delivering a comprehensive range of processing options, including MPEG-2, MPEG-4, AVC, JPEG-2000, and HEVC at resolutions up to 4K. It enables broadcast professionals author legacy audio content or immersive content and define label descriptions and simple end-user controls on a TV's GUI. It also enables A/V-sync and loudness-level signaling. The MFCP, used here as a 4K HEVC professional decoder, is an application based processing platform that blends the benefits of latest software processing techniques with hardware-based high quality, high reliability, and low latency.
The Ericsson solution will be commercially available during Q2 2018.
For more information, visit www.iis.fraunhofer.de/tvaudio and https://mediasolutions.ericsson.com.
Header image © Fraunhofer IIS