by Rupert Brun | Norwegian public broadcaster NRK and Fraunhofer IIS have successfully conducted the first end-to-end real-time streaming trial in the Nordic region of Next Generation Audio (NGA) with interactive features of MPEG-H Audio. Representatives from Norwegian broadcasters, technology companies and other invited experts had the opportunity to enjoy the 2018 Football World Cup matches from Russia using interactive audio, in the NRK premises in Oslo, Norway.
During the demonstration the users had the option to switch between Norwegian, Danish and Swedish TV commentaries as well as NRK's radio commentary and select their preferred language. Moreover, using MPEG-H Audio the audience was able to select a version without any commentary to enjoy the live atmosphere of the stadium in 5.1 surround sound, to enhance the dialogue for better intelligibility, or to change the position of commentaries in the audio scene.
The live feeds from Russia include a stadium channel bed in 5.1 and three mono commentaries in Norwegian, Swedish and Danish. Additionally, a clean feed of the NRK Radio Commentary was added in the main Control Room at NRK to the SDI signal. The radio commentary may be preferred by viewers with a visual impairment because the commentator provides a more complete description of the match than the TV commentators.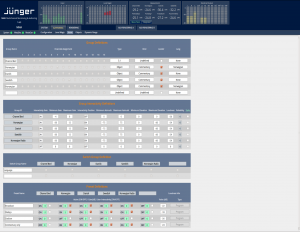 The Junger Audio Multichannel Monitoring and Authoring (MMA) system was integrated into NRK's SDI infrastructure for receiving the SDI feeds. In the MMA, all four commentaries are marked as objects which can be adjusted by the viewer. Simple presets are created for the Broadcast Mix, Dialogue+ (enhanced audibility), Commentary Only and Stadium Only. The range of adjustments available to viewers who wish to use the advanced menus are also defined. The MMA embeds the metadata in track 16 of the SDI signal which is fed to the encoder.
The Fraunhofer Realtime DASH encoder was used for encoding and live streaming of the MPEG-H content to another building on the NRK campus for playback in an environment similar to a domestic living room. The DASH stream was received by an Android set-top box with MPEG-H Audio support connected to the Fraunhofer reference design soundbar. While the set-top box handled all interactivity features by displaying the available options to the user and inserting the user interactions into the MPEG-H stream, the soundbar was able to decode and playback the MPEG-H stream for creating an immersive experience without the need for loudspeakers all around the room. The viewers can select which preset they wish to hear according to their preferred language and level of dialogue required and use the advanced menus to adjust the balance between the stadium sound and commentary to their personal taste. They are also able to move the commentary sound away from the screen to another part of the room if they wish.
To learn more about MPEG-H, please visit http://www.iis.fraunhofer.de/tvaudio and http://www.mpegh.com.
Header image: MPEG-H and soundbar demonstration in the NRK "living room" © Fraunhofer IIS