In July 2022, Bluetooth fully adopted the new Bluetooth Low Energy Audio (LE Audio) standard including LC3 and takes the next step towards excellent user experience.
One of the contributors to the LE Audio standard was Alexander Tschekalinskij, Senior Engineer in the Audio for Communications Department at Fraunhofer IIS.
Alexander, can you tell us a bit about the Bluetooth Low Energy Profiles, particularly the ones related to Audio?
Some years ago, Bluetooth set out to establish wireless connections with reduced energy consumption. This led to the development of Bluetooth Low Energy, and eventually to the development of Bluetooth Low Energy Audio.
During that time, the hearing aid working group in Bluetooth published a call for a new audio codec. Fraunhofer IIS & Ericsson responded to this call by proposing the development of the LC3 codec. During multiple years of development, they supplied the hearing aid industry with preliminary versions of the LC3 codec and eventually developed the LC3 specification for Bluetooth.
As LC3 ensures high audio quality at low bitrates, the codec was taken up by several Bluetooth audio working groups and eventually became the mandatory audio codec for Bluetooth LE Audio. The new LE Audio profiles that use the LC3 codec require significantly less energy than the legacy Bluetooth Classic profiles while enhancing the sound quality drastically and achieving lower bitrates as well as minimal latency. The Bluetooth working groups created a completely new architecture for wireless low-energy audio transmission. Today, this is considered the largest specification release Bluetooth has ever done.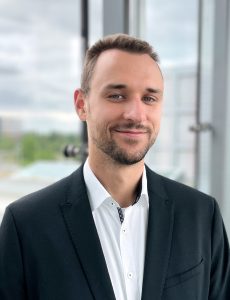 Using less energy while providing a better sound experience. How and when will these benefits arrive on the market and how are they connected to LC3?
Today, nearly all electronic devices capable of transmitting wireless audio are using Bluetooth. Doorbells, wireless headphones, cars, refrigerators – you name it. All these devices will be using LC3 as the mandatory Bluetooth LE Audio codec in the near future. The implementation schedules are of course up to the manufacturers but as the standard is now finalized, manufacturers can rely on it for their long-term product roadmaps. As far as we can see from the huge amount of enquiries coming in since the publication, they are excited to improve user experience, and this makes us expect the LC3 rollout through updates and new products very soon.
As to the involvement of LC3: It is the mandatory audio codec for Bluetooth LE Audio, so everyone will benefit from it. There will be a noticeable change in the audio quality of phone calls and music streaming via Bluetooth LE Audio. Wireless phone calls will provide up to 32 kHz sampling rate – that is twice as much bandwidth as before. This huge improvement will deliver a brighter, better-to-understand, and more lifelike sound. It is also a very important fact for the unbridled enjoyment of content with a lot of high-frequency information, like music, since LC3 delivers great quality even at lower data rates. In fact, the quality of LC3 exceeds the quality of the legacy Bluetooth Classic codec SBC while requiring only half its bitrate.
How do chip and device manufacturers benefit from the final adoption of the Bluetooth Low Energy Audio profiles?
With the final adoption of Bluetooth LE Audio, companies can now officially qualify the Bluetooth LE Audio profiles. This means that they can use the LC3 codec in conformance with the standard, which is mandatory within these profiles.
Fraunhofer IIS has pre-qualified its LC3 implementation as a Bluetooth component. Manufacturers that have licensed the LC3 source code from Fraunhofer and are using it without modifications can therefore refer to this pre-qualification (Declaration ID D056040, QDID 167204). The qualification tests have been passed by all flavors of the LC3 source code, such as fixed-point, floating-point, and DSP-optimized (e.g., for ARM or Cadence HiFi). We provide the qualification/conformance results on request.
Manufacturers of high-end devices are keen to provide best-in-class technology – what can they do to set themselves apart from the competition in the world of wireless audio streaming?
For those who want to stay firmly ahead of the game, Fraunhofer IIS provides LC3plus High-Resolution. Thanks to it, audio content can be streamed with up to 96 kHz and bit depths of up to 32 bit. And that at relatively low bitrates of 125 – 250 kbps per channel. Other codecs require at least two to three times that for a similar performance. The significantly lower bitrate required by LC3plus High-Resolution minimizes the probability of packet losses. Listeners benefit from a stable and uninterrupted connection even in challenging environments like a crowded subway.
These improvements make LC3plus the codec of choice for businesses such as Bang & Olufsen who used it for their high-resolution speaker range to deliver the best possible user experience. LC3plus ensures that highest fidelity content can be transmitted without any noticeable lag between individual devices. Adding the fact that it is an open standard, it becomes clear that LC3plus is the solution for the future of wireless entertainment systems.
LC3plus High-Resolution is ready to be used with the Bluetooth Classic A2DP profile. This is detailed in a technical paper by Fraunhofer IIS, which specifies the usage of LC3plus High-Resolution as a vendor-specific codec in Bluetooth A2DP. We are currently developing a similar specification to enable the codec as a vendor-specific solution in LE Audio.
Just recently,  the LC3plus codec has received the highly valued Hi-Res Audio Wireless certification issued by the Japanese Audio Society.
Find out more about the making of LE Audio in the video below. Contributors to Bluetooth LE Audio, including Alexander Tschekalinskij, remember the beginnings of the project, share challenges the multinational team was facing, and give a glimpse into the future of wireless audio.
Header Image: (C) Adobe Stock, Drobot Dean